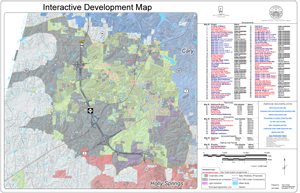 Future Development Map
A future development or interactive development map such as the one depicted to the left, outlines potential economic enhancements for the area. In West Apex for example, several new schools shall be under construction in 2013. Where new schools go, new homes will be soon to follow. Another plus for this area is that access to 540 is just several miles away on Old US 1.
Planned Growth Map
The Growth Framework Map provides a vision for growth management. Atkinson Properties Group know that as of Feb 1, 2013, the large Westford project at Jenks and US 64 will add retail and about 900 residential units by 2015.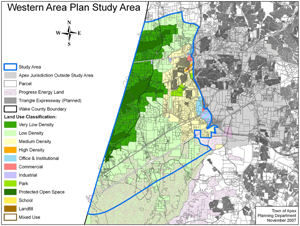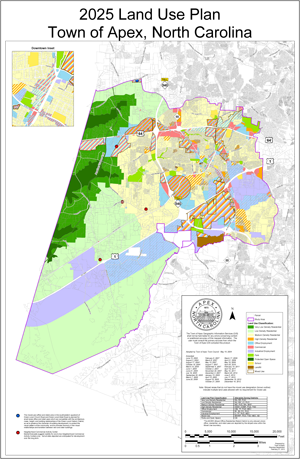 Land Use Map
The Future Land Use Map provides guidance for future development based on potential resources such as pasture, national forestland, agricultural land, wasteland, etc.
Satellite Map
This is an aerial map downloaded from the Wake County Imap system. A typical Google map looks the same. We have an example here and also on our home page. This system allows for GIS analysis of topography, soil conditions, environmental and flood possibilities.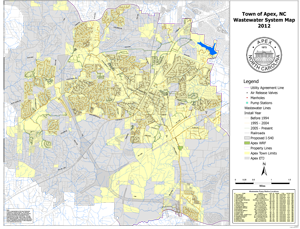 Wastewater Map
The Wastewater map is an example of very much needed maps for adaquate land use analysis. With the opening of the 540 Expressway to 64 in December of 2012 and Regional Wastewater under construction @ Jenks and 64, this area will explode in the next 2 years with planned projects.